Photo by Martin Kingsley
Quite a few of you mentioned that you'd like the topic of freezer meals and batch cooking covered in our
Back to the Basics
series. I'm definitely not an expert in this field, but it's something I want to incorporate more in my own home management, so this is a refresher post for me as well.
Cooking in advance has the serious advantage of saving time and money.
You'll waste less food (especially the perishables), and you'll save money by doubling up your efforts on the spoils brought home from the store.
It's also healthier, because you won't need to buy convenience foods that are chock full of MSG, preservatives, sodium, and other unpronounceable chemicals.
There are a few methods of batch cooking, but essentially, it involves cooking a lot of food in advance. You can cook enough food to warrant freezing and stockpiling, and you can prepare scratch ingredients, helping you to cook without the fake ingredients found in so many store-bought items.
Here are a few tips for the different methods of cooking ahead of time.
Freezer Meals
Freezer meals are entire meals prepped in advance, and then frozen for later use.
They can ether be completely cooked, so that all they need is thawing and reheating, or you can prepare most of the steps in advance, so that all that's left is cooking the meal.
Advantages:
This is a great time saver. You can stockpile loads of meals for future use, such as when you're expecting a newborn in your life. Or you can simply have a few meals on hand, so that when life is a bit busy, all you need to do is shop your freezer.
Disadvantage:
You need the space.
If you want to do freezer meals hard-core, you might want to check your local
Craigslist
to find a used deep freezer for your garage. I have a simple second freezer in the kitchen (it's the size of a compact fridge that's popular in college dorms). It provides some extra space, but not a ton.
Helpful Tools:
Plenty of freezable dishes, such as those foil casserole dishes you can find in your grocery store. I prefer large resealable plastic bags because they take up less space. Vacuum sealers are great, too, though I don't have one.
Good Freezer Meal Recipes
•
Chicken Nuggets
•
Fannie Farmer's Classic Baked Macaroni and Cheese
•
Beef Stew
•
Chicken Tetrazzini with Caramelized Onions
(
make the alfredo sauce
from scratch – it's very easy)
•
End of Summer Vegetable & Fresh Herb Casserole
•
One Skillet Lasagna
•
Chicken Enchiladas
•
Spinach Black Bean Lasagna
•
Ground Beef and Tomato Manicotti
•
Chicken and Wild Rice Soup
You can also search the
freezable meals at My Recipes
or the
make ahead recipes at Whole Foods
.
Once A Month Cooking
Some families cook all their meals for the month in one day. I haven't personally done this, but I hear it works well when you plan in advance and you have extra hands to help.
You can create a two-week menu plan, then buy all your ingredients on one shopping day.
Get your perishables and produce at the farmer's market, and everything else at the grocery store.
Make sure you double all the amounts for each recipe, so that you have enough for the month. You could even quadruple the recipes and have plenty for lunch.
Then you clear an entire day early in the month, and cook, cook, cook.
It's a tough day, but then you're done for the month! Freeze the meals, label and date them well, and all you have to do is thaw, reheat, and serve.
Cooking & Freezing Staples from Scratch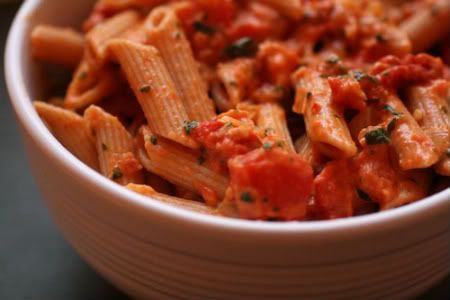 Photo by thebittenword.com

Even if you don't like the idea of freezing entire meals in advance, you can still batch cook and freeze staple ingredients.
• Once or twice a month,
roast a whole chicken
, then cube the meat and store it in half cup or whole cup quantities in resealable bags. Label the quantity and date — you might think you'll remember, but believe me, you won't.
• Now, you've also got plenty of chicken broth to freeze. Also store this in whole cup quantities, and label it well.
• I also like to match batches of
homemade cream of chicken soup
, and freeze for recipes later. The stuff in boxes and cans are chock full of fake ingredients and sodium.
• Brown and drain ground beef the day you buy it at the market, and you can also store this by the cup for freezing. This way, you'll also use less meat per meal, because it'll be an ingredient instead of the main feature.
• I also like to throw dried pinto beans into the Crock Pot to make a simple side dish that will last us about two weeks. You can mash them into refried beans, too.
• We'll get to canning later, which will cover lots of veggies and sauces. But you can also make basic marinara sauce, pizza sauce, and salsa in bulk, and freeze them for later. Jump on these things now, while tomatoes are abundant, fresh, in season, and cheap!
It can feel overwhelming if you try to jump on all these ideas at once, so
just pick one or two, and gradually add more freezer meals to your agenda
. For me, I'll be freezing my chicken ingredients, ground beef, and a few meals for the next few months.